When I try to find that special present for men I look for something they will appreciate which is also valued and they will use it regularly! It sounds so simple, doesn't it? Follow these three simple rules and your loved one will thank you 10 times over! If only it was that easy!!!
"I've discovered this 4 Blade Electric Wet & Dry Shaver from Panasonic and it's on my gift list for men! "
My dad is celebrating his 60th Birthday this year and I am already hunting for a few ideas which match the three key points' – value, usefulness, and appreciation mentioned above!
Back in the day, men were traditionally shaving their facial hair for the close wet shave look! No wonder it's still the most popular shave amongst men. My dad has a clean shave a couple of times a week and my fiancee clean shaves at least once a week. Let's face it, our men shave a lot!
One thing I can't help but wonder is the fact that men don't seem to like the look of a clean bathroom! For some reason, they always decide to shave the day after (if not an hour later) when the bathroom is sparkling clean! Very annoying but oh well maybe I'm a clean freak!
I know I won't be able to change any of this but what I do know, if men are going to use an electric shaver then it definitely needs to be a damn good one!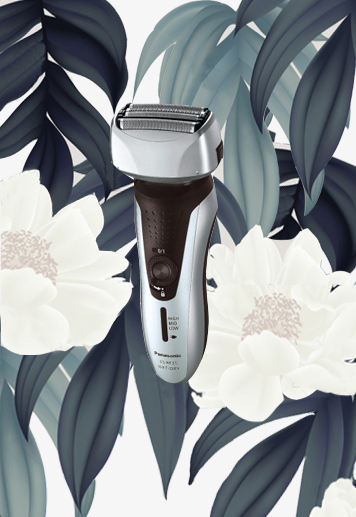 After my research, Panasonic seems to be one of the leading brands on the market who offer great wet and dry technology amongst Foil electric shavers! I've explained below why I would choose a Foil Electric Shaver and a few other points I have learnt along the way!
"Panasonic seems to be one of the leading brands on the market who offers a great wet and dry technology amongst electric shavers! "

What is actually Foil Shaver & 4 Blade Electric Wet and Dry Shaver
FOIL SHAVER
If you're not sure what a foil shaver is, it's a thin curved metal foil that covers a cutting blade and helps to shave a shorter, thinner beard. If your man would like to achieve a close shave every day, foil shavers are the best option! Men with sensitive skin appreciate this type for the gentle touch.
WET OR DRY SHAVE
I know many men deciding whether to shave wet or dry, I suppose dry shaving is quicker but wet shaving could be more soothing for the skin! What I like on this 4 Blade Electric Shaver is it's for both wet and dry shaving. So no need to try and find out what your man prefers!
PRICE RANGE
In terms of price, quality shavers retail from £50 up to £300. The 4 Blade Electric Wet and Dry Shaver from Panasonic is placed right in the middle of that bracket at £159.99.
Image source: Panasonic.com. This is a paid feature, however no affiliate links included. My opinion is always honest!