Hello beautiful,
Do you find yourself thinking over and again what to wear when the Summer ends with the new season right around the corner? You have probably answered Yes, you wouldn't be here otherwise, am I right?
So what can we possibly wear so we don't feel overdressed or underdressed? We all want to continue feeling fresh, stylishly blending into the swing of Autumn with not too much extra effort being made. It could sometimes also mean we need unlimited resources… not with Fringe and Doll by your side.
This time of the year is when everything we own in our wardrobe is so last season! We get ourselves a new state of mind, the old and good 'Spring Clean Mode'… but wait, it's Autumn! Well, everything Summery goes in the attic,  in the storage room, overflowing boxes placed on top of your wardrobe and probably all of this will be forgotten for now! But this is not why we here today.
If you don't want to spend all your pennies on 'the wrong items', would like to own stunning pieces that will last you forever, literally, and can be worn all year round!  You are definitely in the right place.
If you are a smart shopper, good news! You probably already have most of your wardrobe sorted and also managed to save so much time on unnecessary bits that only clutter your mind and your wardrobe. No doubt your bank account is happy too!
I consider myself being half smart shopper and half enthusiast who grabs anything that comes to hand (mainly in high street stores) which can be a good and bad thing at the same time.
So… I've been keeping my eyes open for you so you don't have to go through the struggle when the weather can't make up its mind. After all that's what I do for a living, so I hope you will take something from this post. After this article, you'll be able to get your hands on some of the seasonal beauties before they're gone again.
Below, there is a mix of luxury affordable brands, high street and designer pieces we all dying to own. I always recommend to everyone, quality over quantity, but that doesn't mean you only have to look in expensive stores!
This selection isn't just perfect for the UK weather right now but it'll be perfect in few months time too, all year round really. Let's say, I am hoping I will personally include most of this mix in my Autumn Capsule Wardrobe. I've selected only staple items that can be worn on their own, or matched with other new seasonal styles next year.
Have fun and let me know what you think with comments below. Would you add anything else? Did I miss any trend that we can't be without this Autumn? All feedback appreciated.
See you after dark!
Lots of Love,
Radana.xx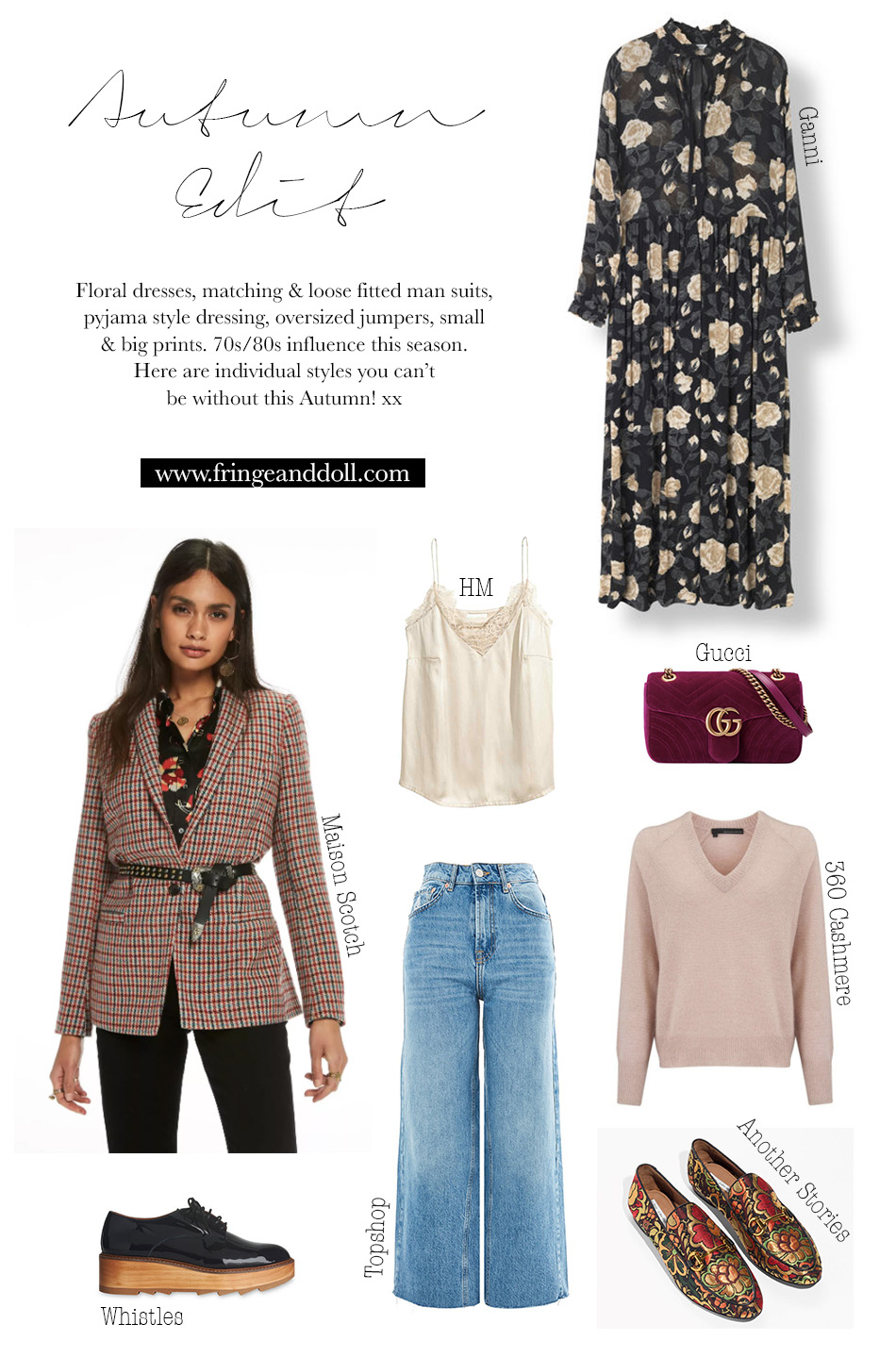 SHOP MY AUTUMN EDIT HERE:

Never Fully Dressed Misse Star Dress
Maje Print Leopard Brushed Felt Skirt
Caudalie Divine Body, Hair, Nails & Bath and Massage Oil
Delilah Pure Light Liquid Radiance Highlighter
Whistles Limited Edition Flossy Tie Neck Blouse
GANNI Carlton Georgette Maxi Dress
MAISON SCOTCH (Scotch & Soda) Checked Wool Blazer
H&M Satin White Vest
GUCCI Marmont Velvet Shoulder Bag
TOPSHOP Moto mid Blue Wide leg jeans
360 CASHMERE Jumper Danielle Sweater Rose Quartz
WHISTLES Ida Patent Lace Up Shoes (Navy)
& OTHER STORIES Floral Loafers