As autumn hit us rapidly last week I thought what better time to shoot an outfit with all the fallen leaves and the lovely nature. So I found this perfect drive way very close to my house and thought it would look great for a shoot, until I had a lady coming to me saying that this is her private road and we are not allowed to shoot there. When I think of all those things that bloggers must go through, it just makes me laugh (I've got so many stories!).
I've just discovered a new brand this weekend called Rose and Rose that makes these beautifully printed scarves. I was hunting for a scarf to go with my favourite By Malene Birger coat. I wanted it to be navy and I couldn't imagine it being any better than this floral one. As we're slowly approaching winter, a good scarf+coat combo is always needed in the wardrobe. If you're thinking of investing in a new coat this season and want to go for a slightly masculine shape, this Cocoon Tailored style is a great elegant choice. If you have been following my posts for some time, you would have noticed that I'm a big fan of Scandinavian minimalism which this coat represents very well. I am just as in love with it as I am with the pink teddy coat by Ganni that you can see here. They are both so different but very stylish at the same time!
I really hope you like the look! Enjoy!
With Love, Radana.xx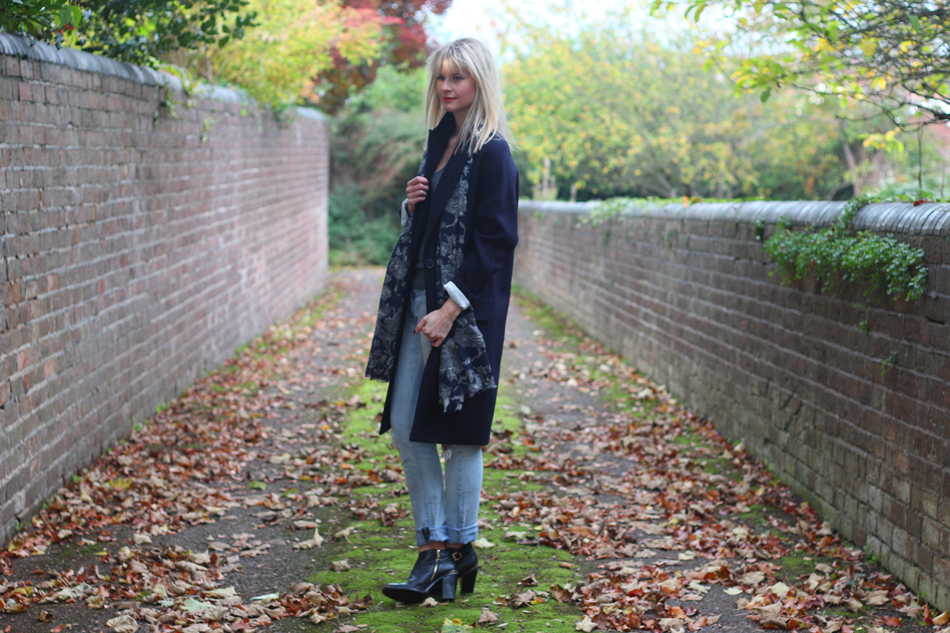 Photography by Alexandra Mihaylova
By Malene Birger Tailored Coat | Rose and Rose printed scarf | Zara Ripped jeans (old season) | Veromoda Boots