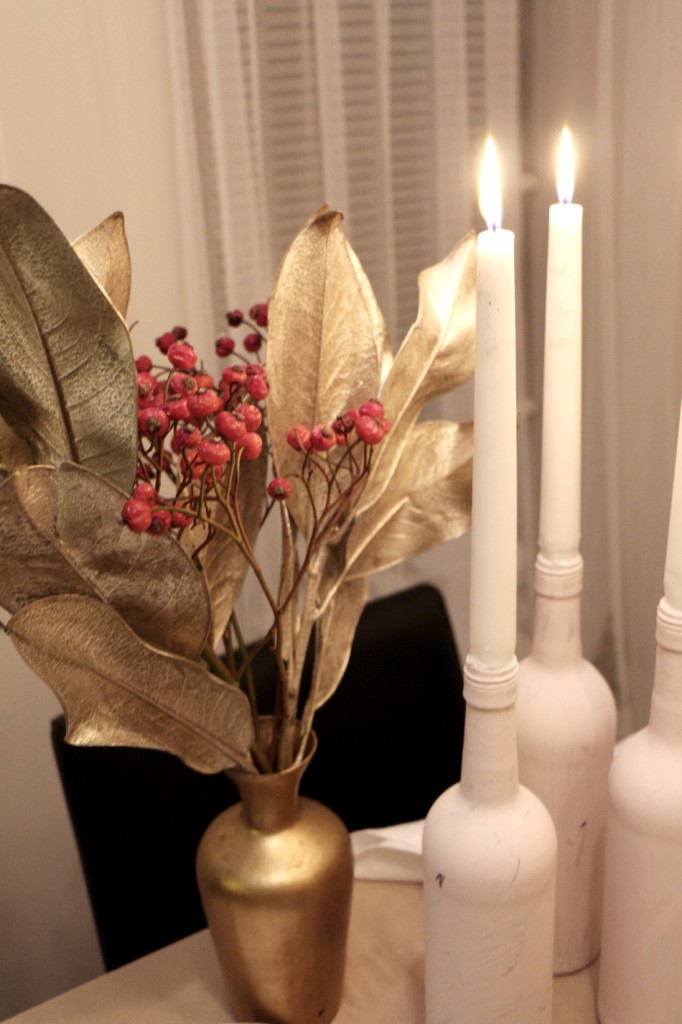 It is all over again, the Christmas festivity is in the past now and as usual, here is my Christmas table decoration and this time with my Christmas menu. Every year I try to use different inspiration and  this year I thought about wild animals, rustic flowers and in general all about unfinished nature design. Flora and Fauna theme was born. Unfortunately I didn't found as many faux animals as I need it for my table (I always leave things until the very last minute anyway) however I think my cute owl was very sweet ( you can see it hiding on the table).
Firstly I paint five wine bottles using pastel pink paint from George Home colour palette and used them as candle holders, I golden sprayed massive leaves and bought dried rose hips for my vase (the vase is also golden sprayed). If lucky enough, you can get rose hip just somewhere around your home! The same applies for the cones (I had to buy them, but if you live in the country side, you'll get them anywhere nearby).
My table cover is by Ralph Lauren Home that I used already last year and all my plates and glasses are from Darlington (apart from some of them which I either received as a present or just simply don't remember).
For all my international, non UK readers, I celebrated my Christmas as usual European family on 24th, Christmas Eve. But I had a little twist as that' s the advantage of living in England and experiencing new traditions! I' ve decided to have five course meal this year as my brother came over so a little treat for him (and me of course too). Firstly, we started with traditional Christmas soup that comes from my home (by the mountains in Czech) – 'Egg broth with carrot, celery, cabbage and mushrooms finished with pan-fried semolina'. As a second course, I still kept the Czech tradition and add a little touch to it – 'Potato and gherkins salad with pan-fried venison sausages served with reduced red wine sauce'.
If you enjoy hosting dinner parties same as me, you know it is important to get rid of the meat taste in between dishes when serving more than one! So I wanted to get simple lemon sorbet, but hey did you know you can't get any sorbet in the winter here in the UK? I didn't find the time to do it all by myself, so we improvised – 'Frozen berries mixed with shot of tequila, squeezed lime and soft brown sugar'. It was delicious and exactly what we needed! Try it yourself!
For the main course we continued serving meat – 'Roast lamb with potato mash, broad beans, spring onions and reduced red wine sauce'. Here is one tip from the chef when you host dinner party: 'Keep it simple with the sauce for example, use it throughout the menu, it only requires smart and less cooking'! To finish the Christmas meal, we had a beautiful dessert, however as it was coming to an early morning hour and I had few glasses of wine too, the picture just wasn't great enough to show you – 'Pickled pear in honey and red wine sauce served with chestnuts, vanilla ice cream and sweet clementines'. Instead on the picture you can see my Christmas Day dessert – 'Fresh fruits served with shot of cream, vanilla ice cream and sliced orange', which was little bit more simple, but same delicious.
English Christmas would also not be without Christmas Crackers that keeps your guests entertained, it is lots of fun and very great idea. You just simply cross your hands with your guests and pull with the cracker. Inside there is a little surprise! Here is little bit more about!
Our meal ended when we all felt full. We finished the evening with a French cognac for the men and sweet Baileys for the lady (myself) and start opening presents, which is always exciting part as usual! There were some beautiful treats for myself, clothing wise, some accessories and stocking fillers, but check out my Instagram soon for more details!
Here is a question, what' s your special tradition that you or your family do during Christmas? I hope you enjoyed this post and get little bit inspired maybe for next year! Stay tuned.
With Love, and happy festivity, Radana.xx