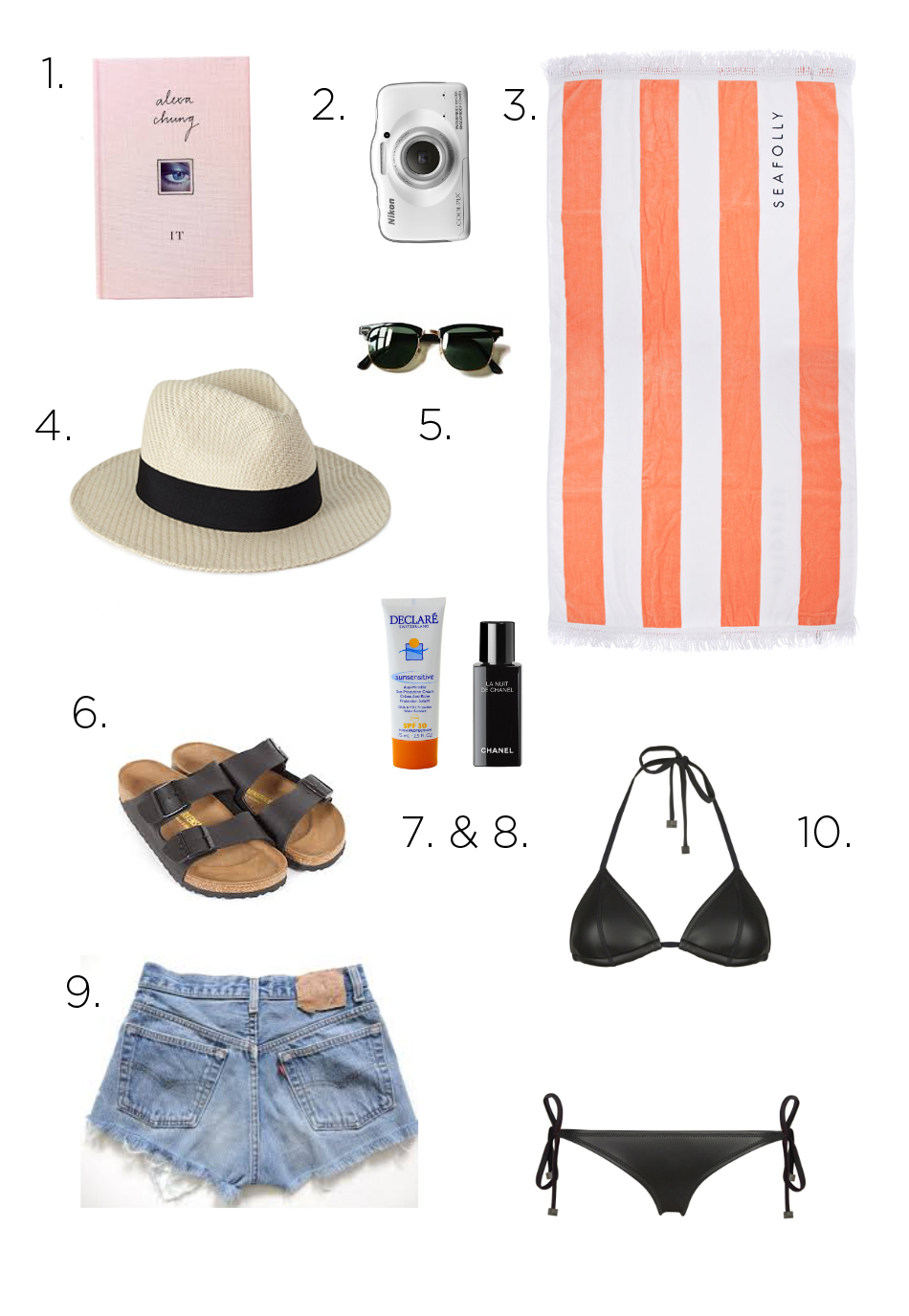 1. Alexa Chung IT 
I did not get the chance to read this book yet can you believe it? So it is definitely one of my must have on the beach this year
2. Waterproof Nikon Compact Camera Coolpix
Whilst I was thinking of spending three weeks on the beach, and not having a waterproof camera seems like bad idea.
3.  Seafolly beach towel
You can't step on the beach without a lovely beach towel. I' ve chosen this one form Seafolly.
4. Forever 21 Panama Hat
Searching for the perfect hat made me to discover one of the fab hat brands called Janessa Leone, you can see her look book here.  Unfortunately, I couldn't get my hat on time as it is available just for a pre-order. After the whole time looking for a one similar to it (which was impossible) I decided to go for this one from Forever 21, it will do the job ;).
5. Raybans 
Always having my favourite Raybans with me.
6.  Birkenstock Sandals in Black
Nothing more comfortable then the 'old Birkins'
7. Declare Switzerland SPF 30
Choosing the right sun cream is always a tricky part, but my favourite is always this one from Declare, it protects my sensitive skin and it also works against wrinkles, yay.
8. Chanel Le Nuit
It is so great to have a friend who actually knows a lot about a skin. After a conversation with Jade, beauty therapist and a skin care pro, about the amazing renewing affects of  Frankincense I decided I will give it a go with this Le Nuit Chanel Night cream.
9. The Classic Levis 501 denim shorts
Will not do any step further without this style. They go with everything, and they are perfect for the beach as well.
10. Triangl black bikini
Every girl should own a good black bikini, I' ve chosen Australian brand Triangl this season.