I have always been known for mastering the basics amongst my friends and when advising some of my clients! The capsule wardrobe basics are key when it comes to dressing for everyday casuals to smart days! I tend to go to my capsule selection even when I just go for a walk on sunny days!
So I thought it is time to show you my little trick! Items I invest in and tend to wear the most
throughout my week all year round!
"It is not boring neither glamorous, but mastering the 'basics of your capsule wardrobe'
will save you so much time! And trust me, you will thank me later! "
This look was shot on one of my days off, just on my iPhone, whilst me and Andy went for a walk by the river! I never know whether we end up going to a pub, or restaurant, coffee shop or whether we just sit on the bench in the park! I always make sure I am comfortable enough, but also don't want to be under dressed just in case our taste buds will call for a tea and cake!
Having a comfortable pair of denim jeans is the basic number one advice! I wouldn't go far without them and never do! It is my number one item I wear nearly every single day for the last 5 years! That's when I started to invest in my denim basics and really been careful what styles I am getting! It is also due to numerous factors, like UK's weather, my work schedule & latest trends! And also denim will simply never go off fashion!
Here is a list of few denim brands I strongly recommend, however it does come down to personal preferences! I wore brands like 7 For All Mankind, JBrand Jeans, Paige Denim and my ultimate favourites are from AG Jeans! They all retail for similar price, about £200 in the UK.
Secondly, I don't know what I would do without white shirts! I am pretty much a freak when it comes to whites! I have so many different tops, T-shirts and shirts! But having the one item that goes with anything you wear, from jeans to skirts or cullotes, even better if it is silk, you will feel like you won the lottery!
This shirt I am wearing is 100% silk with short rolled sleeves, cropped off white with two pockets, buttons and collar! I can't even count how many times I wore it last Spring & Summer, but it is my number one item I can't be without and will be wearing this year again!
This doesn't mean you got to go and invest in silk shirts with short sleeves! You might like a cotton blouse without pockets and long sleeves that you already have in your wardrobe (I do too!). Simply look for item that you will be grabbing anytime when you are not sure what to wear!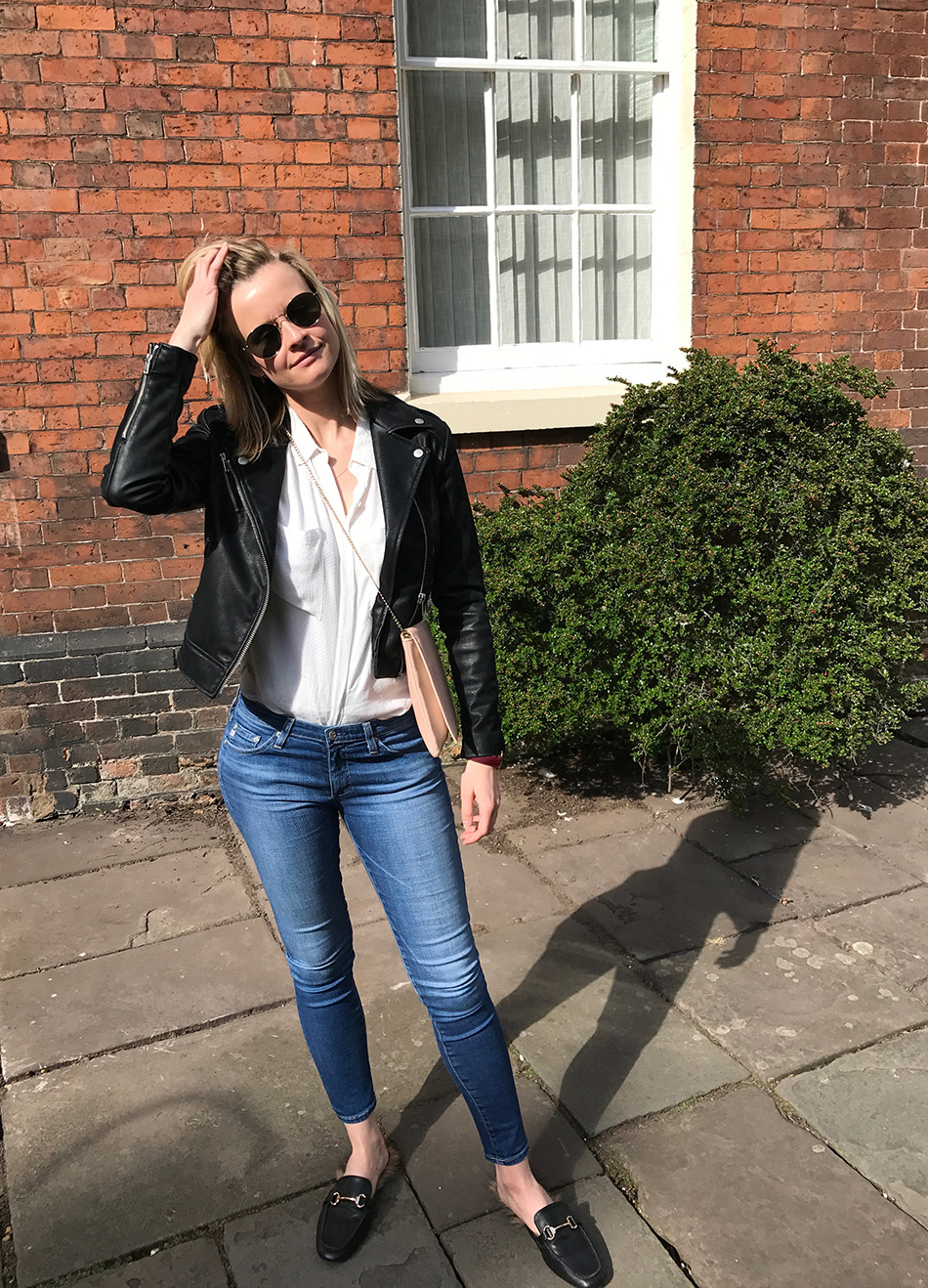 Lastly, leather jackets! I am not going to go on and on about the fact you should invest in expensive leather jackets, because that's something I was never able to do myself! Also never was able to find the perfect leather jacket yet to actually sacrifice the pennies for it! I also find that leathers do go out fashion! So if you invest in the wrong one, next year you might not want to wear it again, and it could be waist of money!
However, there is plenty to choose from on the high street, and small independent stores! You can pay as little as £60 for decent faux leather jacket, like mine on this picture, or up to £300 – £400 for real leather jacket! Keep looking in affordable luxury brands and store like Ganni, Mads Noorgard, All Saints or Whistles for instance! I got mine from Mango and have an eye for another one this season in Zara, again with very similar lower price point! However, I always do look in All Saints and Mads Noorgard does some great styles too!
Leather jacket can transfer your look and add the final touch! I wear my leather jackets as an accessory instead of wearing it as an jacket! It always completes my look! One of the reasons why it should be in your capsule wardrobe! Plus make sure you get black version first, and investing in other colour like grey, blue brown or beige afterwards!
So here are all three items that should be in your Basic Capsule Wardrobe!
Great pair of denim jeans
White shirt
Leather jacket
It is not boring neither glamorous, but mastering the 'basics of your capsule wardrobe' will save you so much time! And trust me, you will thank me later! Do let me know in the comments below, whether you have had considered or already had invested in your capsule wardrobe? And I'd love to hear what are you wearing the most too!
See you next time!
xx
Radana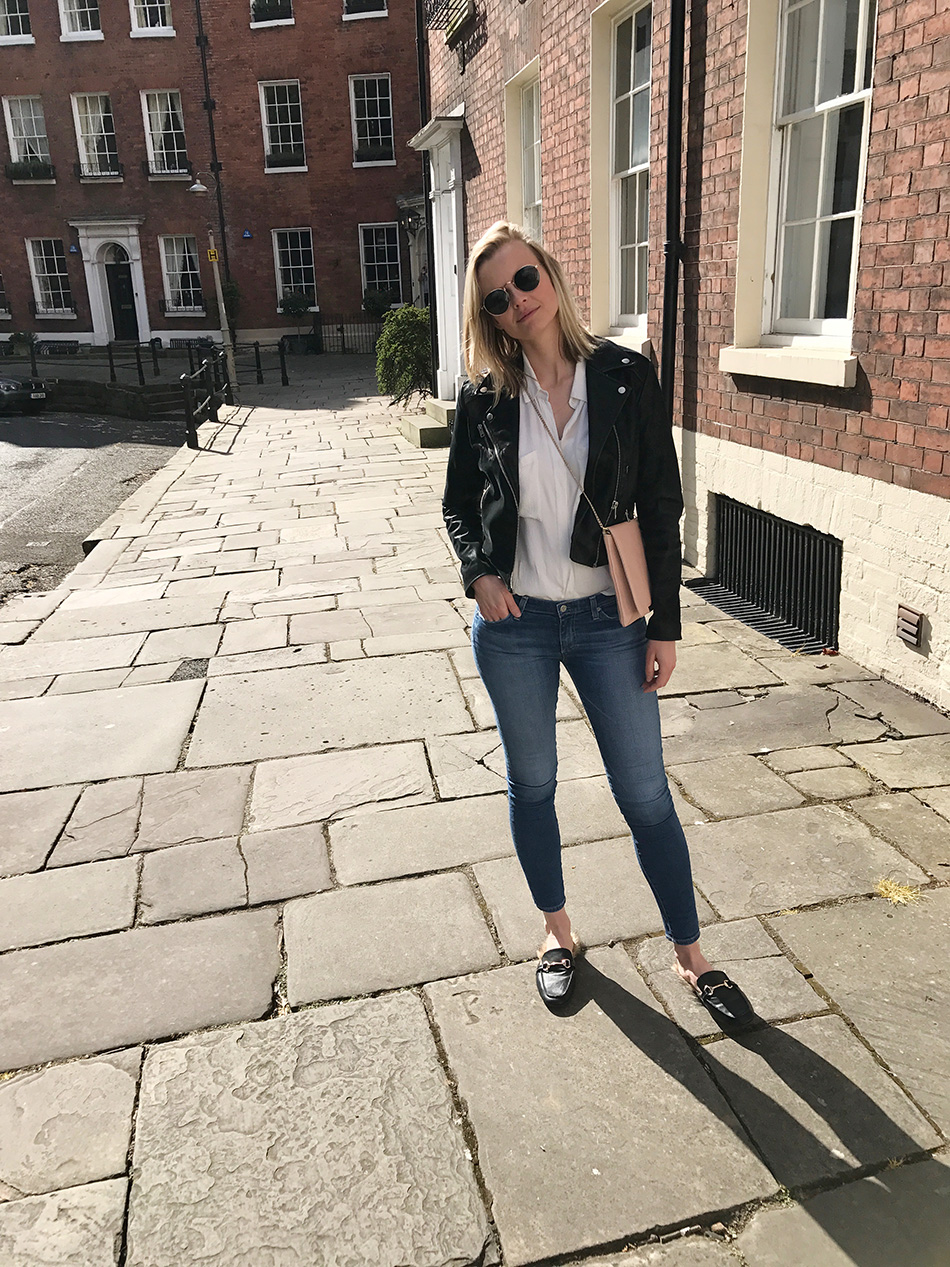 Photographed on Iphone 7 Plus
AG Legging Ankle Denim Wash Jeans | Mango Faux Leather Jacket | Whistles White Short Sleeved Shirt | Primark Slippers