Hello beautiful,
Do you ever find yourself doubting what's your next move? Or if you should be doing what you are currently doing? Feeling like you are sitting on the edge?
Of course everybody has times when they doubt certain parts of their life, whether you are happy in your current state or not. All of us do! It's the nature of being human and having feelings! Worrying is a natural habitat of being from Venus!
But  … wait a minute!  … Take a deep breath!  Stay positive! Laugh as much as you can!
I'd like to dedicate this post to couple of my beloved friends, who are currently struggling finding their path! And to all strong women in the world who are continuing to believe in themselves! You are all doing an amazing job!
As I was sitting on the edge of the medieval walls in my home town of Tabor about a week ago, I thought this article would be very relevant showing how grateful I am for the time I've felt like 'being on the edge!'
About 3 and half years ago, I went through a 'strange' time, you might of been there with me, on social media, or in real life! It wasn't nice, it was actually an awful time! I lost my confidence, at work, in my personal life, and I didn't know who I was! However, I also appreciate the period I went through! I managed to embrace it (not straight away, it took me some time). It definitely changed my views on life! I had to start all over again to build who I was and few years later, I like who I've become!
I matured quite fast, I realised who my real close friends are, got a clearer view on my career path and where should I be living for instance! Yes, I was doubting whether to stay where I am now, move to the capital or even move back to Czech. But mainly, I started to focus more on what's important, ME!
It took a while and two years seems like a crazy long time to deal with stuff you don't really want to deal with! However, I realised you have to stop pleasing others and stop working on somebody else's dreams! Instead, I started to work on my own!  I have embraced my professional career by not being afraid to say and ask what you want, as well as successfully proving your skills to complement what you ask for! As harsh as it sounds, the earlier you get a wake up call, it will be better for you in the future!
Life is bittersweet and nobody will lay everything out on the table just like that! I have also opened up my eyes and tried different new things in my personal life and met so many different people, which I am so grateful for! So key points to takeaway, embrace your path, put yourself first in difficult situations and you will be where you want to be sooner rather than later!
Remember, good things happen to people who are naturally looking for great things in their life and vice versa! Believe in yourself and stay positive! Rushing into something head first isn't the best idea, so take your time to, even if it's for 2 years!
Personal update: I am about to start a new turn in my professional career, closed another chapter and my personal life is going the way I want it so far too. Yay!
On another note, being back in Tabor was a wonderful time again, I strolled around and ended up being a tourist in my own town! It's so funny when people say, you appreciate things when you don't see them as often! I love the architecture we have in the city centre, so beautiful and the history what goes way back! I'm sure I'll continue being a tourist in my beloved Czechia!
You can find the whole look I am wearing below in these pictures! I love being comfortable every day, yet fashionable! I actually wore one pair of jeans the whole trip to Czech, and a pair of converse shoes! I don't think I packed anything else! Btw. Have you seen my article about 'Mastering the basic of capsule wardrobe'? where I talk about denim and how important it is to invest in the right pair? Read it here!
I hope this post motivates your lovely souls! So let's embrace new opportunities together! Let me know your comments below!
With Love,
Radana. xx
PS: My thoughts are with Manchester and London after last night! Stay strong! Pray for London & Pray for Manchester!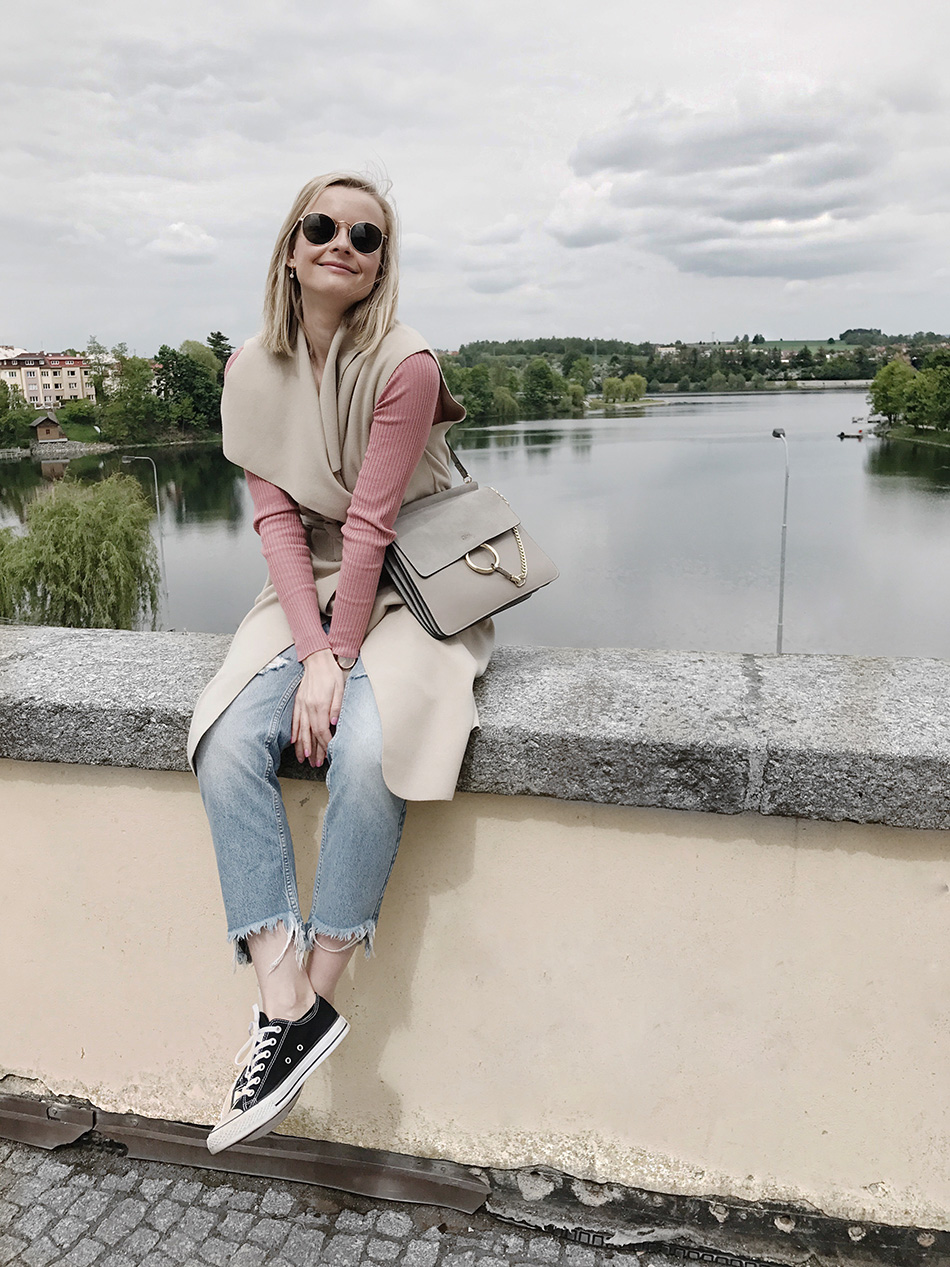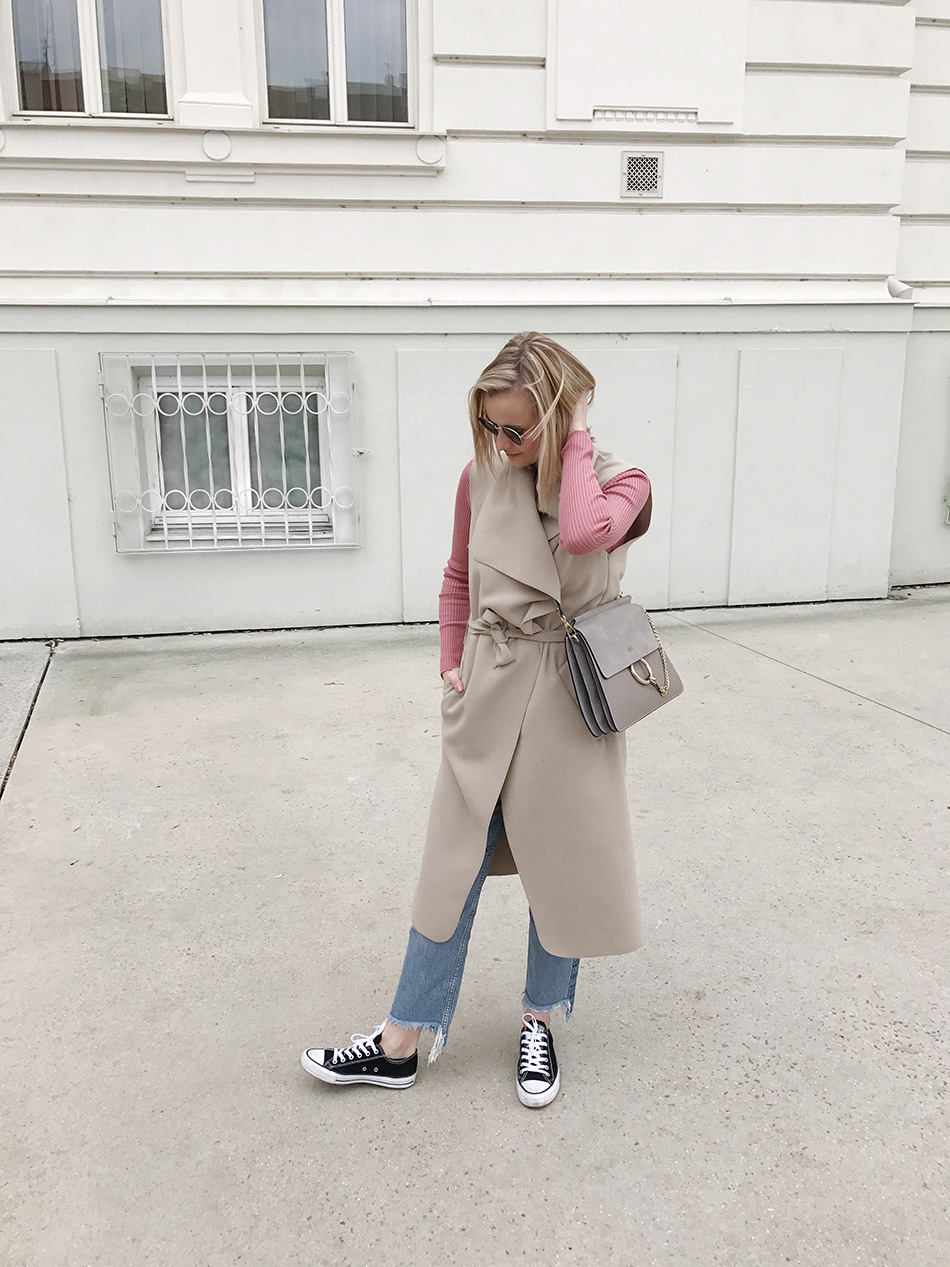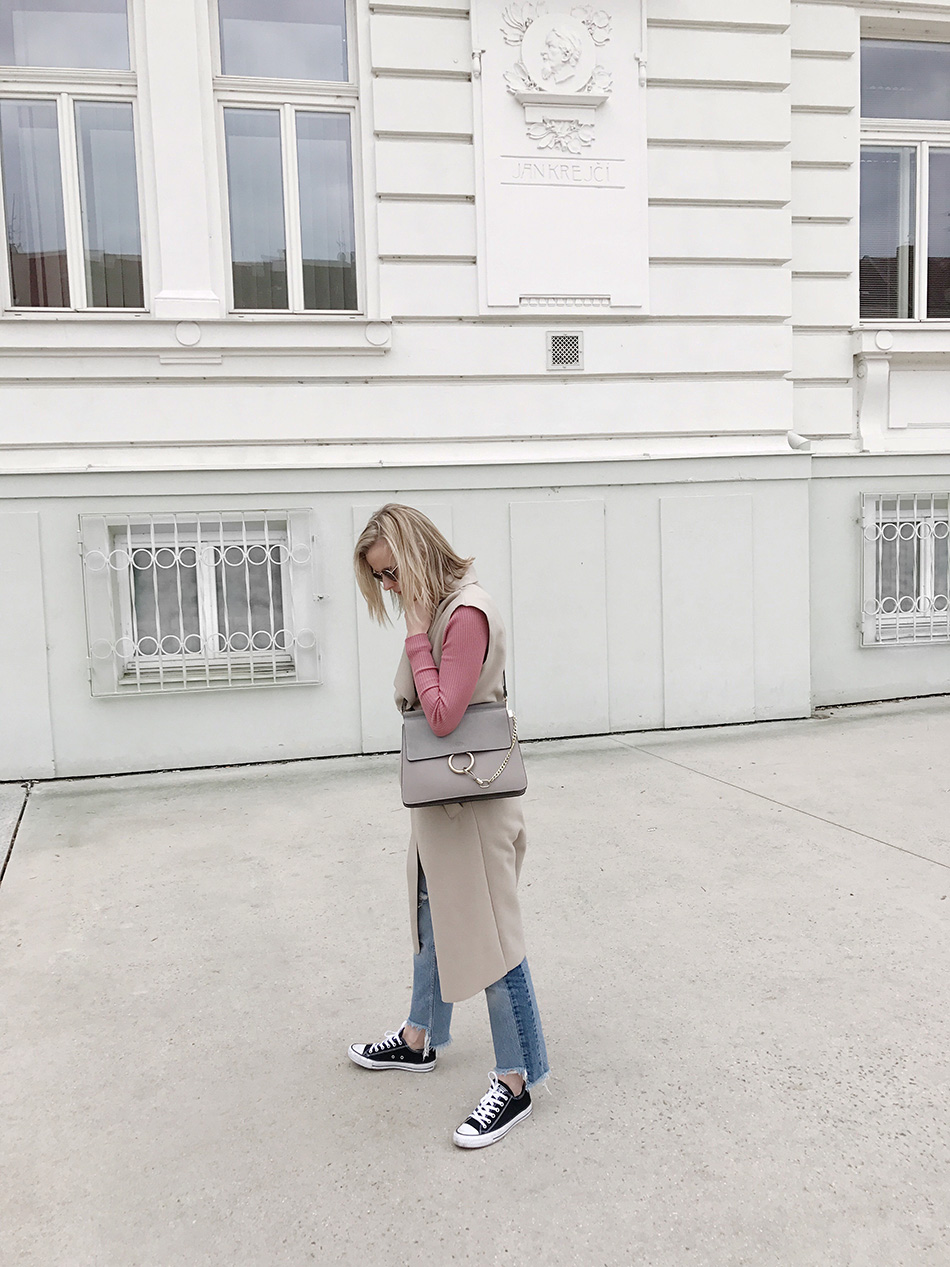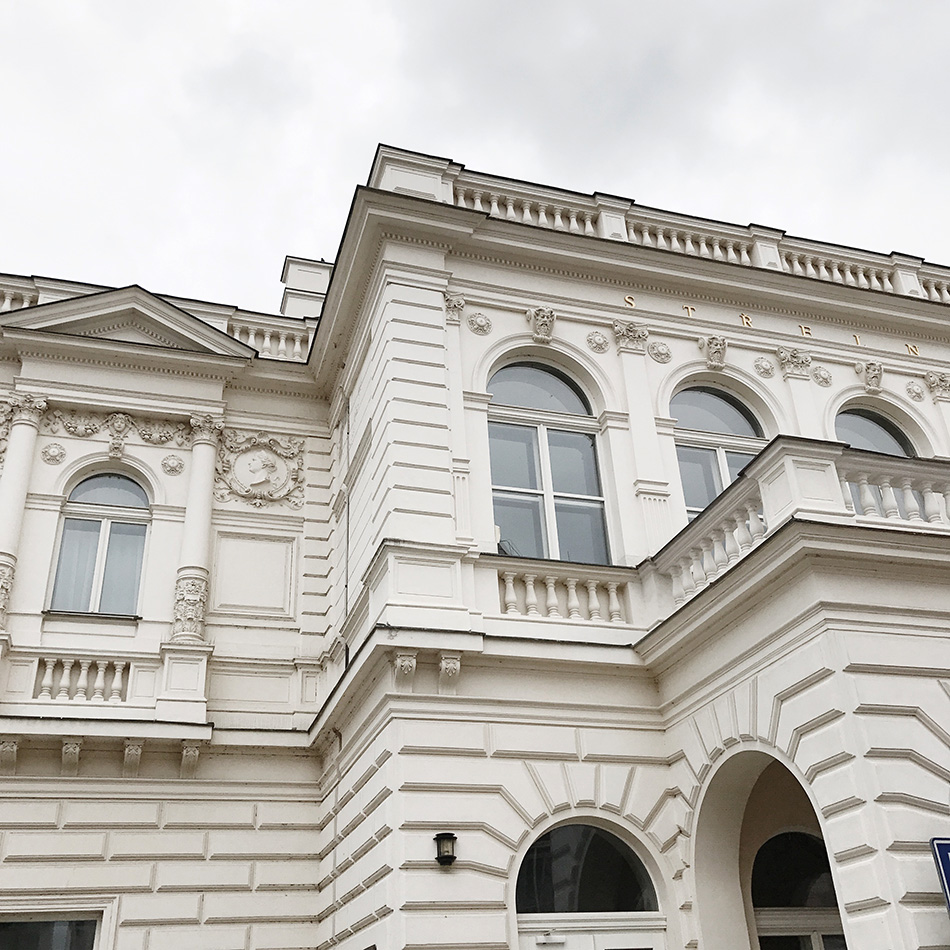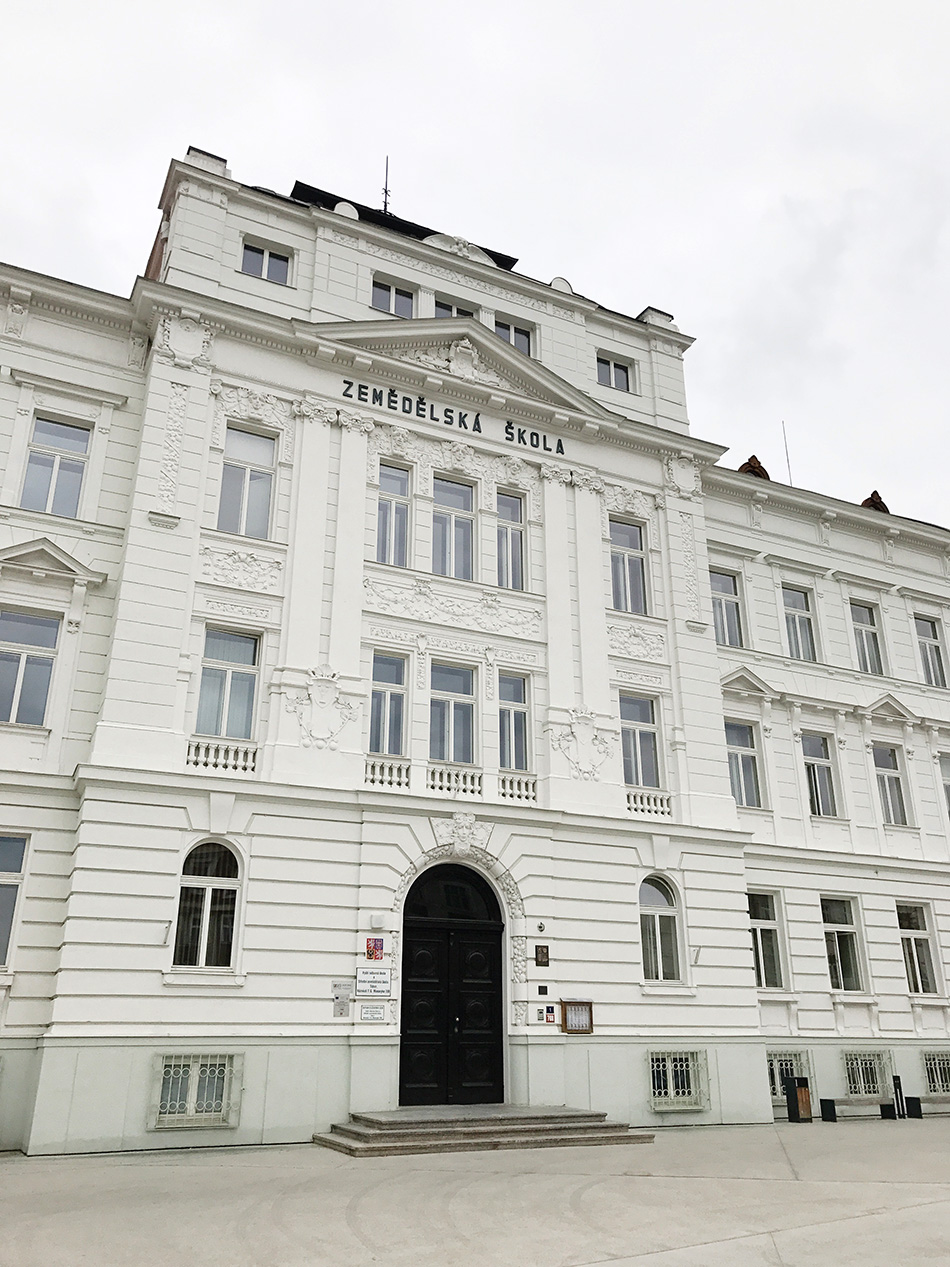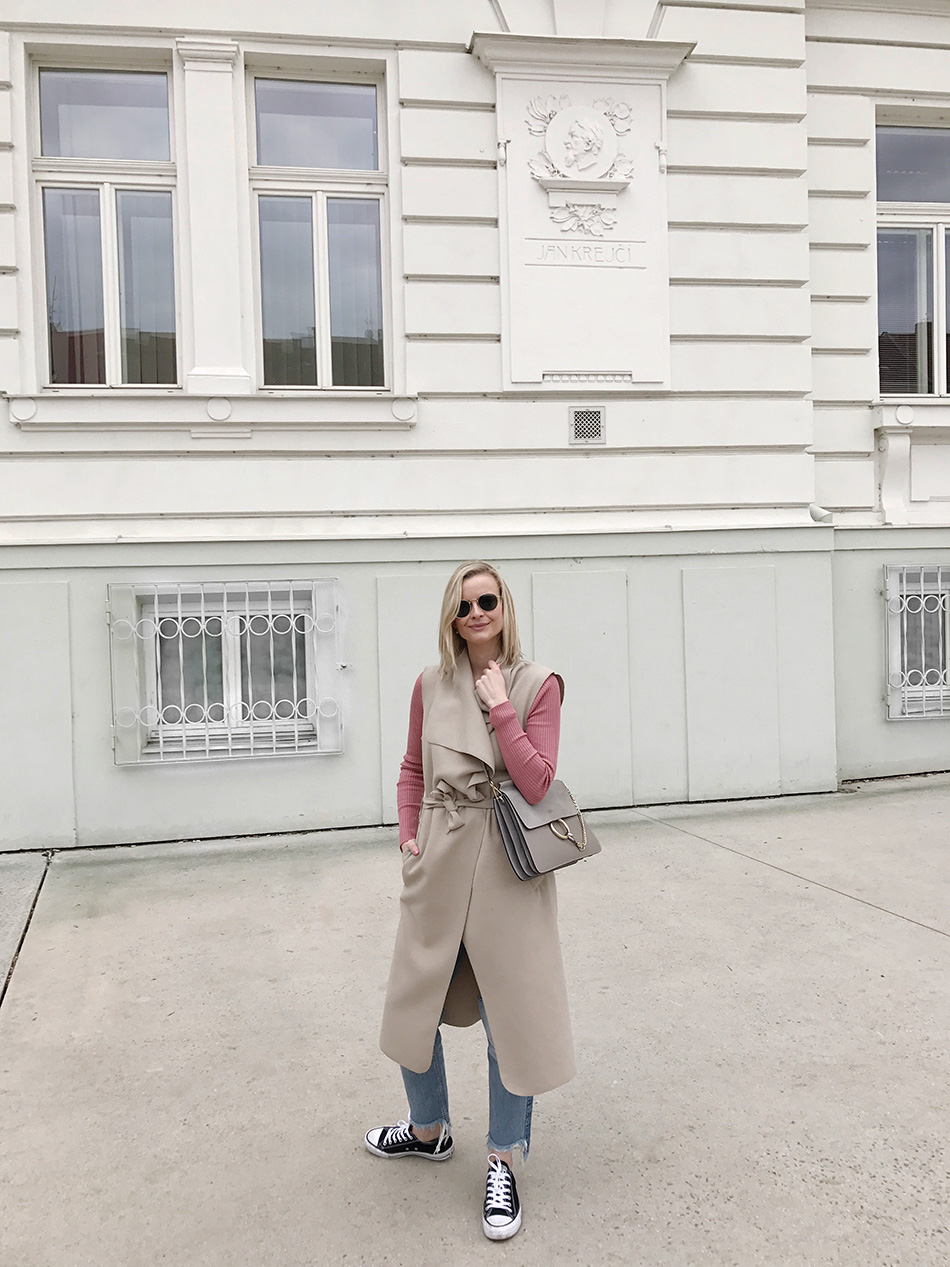 I WAS WEARING
Boohoo Long Overall  (couple seasons back) | H&M Distressed Vintage Jeans | Converse Chuck Taylor Trainers | Chloe Bag | H&M Pink Top | Topshop sunglasses